Computer/Phone system Installation & repairs..Free est. Data jacks cat 5e. Hardware installation.&&& in Boulder, Colorado For Sale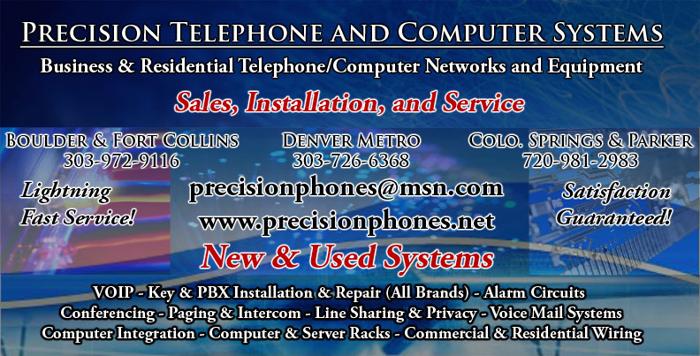 Seller:
Date/Time:13 Nov, 10:50 a.m. EST
Type: Computer, For Sale - Private.

Visit our website for products and services
Free est!!!, Programming, adds, moves, changes, Networks wired & wireless, Voip, Data Recovery,Anti Virus,System upgrades, 24-7 support, Virus Removal . Panasonic Nortel, Norstar, Call-Pilot, Mitel, Vodavi, Vertical, Comdial, Merlin, Legend, Point of sale+++
Since xxxx Licensed ,Insured, Bonded.
24-7 Emergency Service
Service,Repair, Remodel ,Home theater. Trouble-Shooting.
Clean and Courteous Service People.
Call 303-972-xxxx
Free Estimates! Since xxxx, References, Emergency Service 24/7 Web Design. Trouble-Shooting ,Upgrades,Telephone Integration New and used equipment Buy ,sell,and trade. Virus & Spyware Removal Wireless Networks, Network TroubleShooting Upgrades, Data Recovery, Backups. Compaq, H/P, Dell New and Used phone systems with voicemail. AT&T, Avaya, Nortel, Norstar, Option 11 thru 61 Programming ,On site training ,Adds ,Moves, Changes. Security Cameras, Wireless Problems Solved. Your Problems Solved Or You Don't Pay! Call John @ 303-972-xxxx No Trip Charge!!! Visit our website for products and services

Android App Development
Hello, do you have an app idea? We specialize in Android app development. We are friendly and thorough and we know...
Time: 05:23 a.m. EST
Date: 30 Aug
Price: $199
Time: 05:05 a.m. EST
Date: 30 Aug

Time: 02:16 a.m. EST
Date: 30 Aug

Price: $100
Time: 11:36 p.m. EST
Date: 29 Aug
Time: 09:25 p.m. EST
Date: 29 Aug

Time: 08:54 p.m. EST
Date: 29 Aug